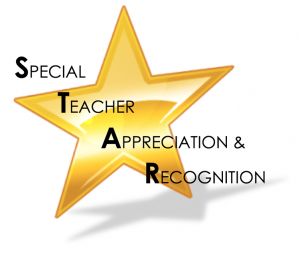 Is there a certain teacher, administrator or other special person whom you would like to recognize for their involvement in your child's education?
The LEF STAR (Special Teacher Appreciation and Recognition) Award can do that for you!
In return for a donation to the LEF, your personalized STAR Award will be presented to the person whom you have chosen. It will be printed on high quality paper, enclosed in an attractive, star-embossed folder and will be a formal, lasting remembrance of your appreciation. In addition to providing recognition, you will also be supporting the LEF's mission, promoting creativity and enthusiasm or enhance learning in the classroom.
Every year, people ask us about donation amounts. It seems that the average donation runs between $25 and $100. Our minimum donation is $10 so that everyone may participate.
To order, please complete the form below no later than Friday, June 9th. (Orders for any awards given by graduating seniors and their families should be returned as soon as possible.) Awards will be presented before the end of the school year.
Contact us if you have questions.
Give a STAR Award